The Violin Shop is one of the few businesses dealing with elite string instruments on the First Coast, the owner Miguel Melenchon is one of the few people who is a luthier and can actually manufacture a violin.
As you walk into our shop at 12192 Beach Blvd, Jacksonville, FL – the ceilings, walls and showrooms are packed with well-maintained instruments ranging all the way from violins to violas to even cellos.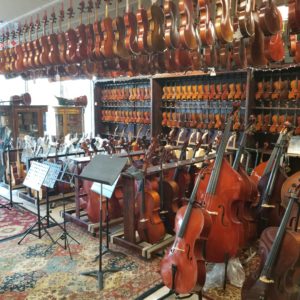 What makes us special is the hundreds of hours spent learning how to be an amazing luthier, the years of experience managing the violin shop, the sheer love we have for not only violins but all the beautiful instruments we have to show at our shop.
We love the many people who come to our shop, no matter if they're students or maestro's – we all share the same love to the beautiful music our Violins, Violas, and Cello's make.